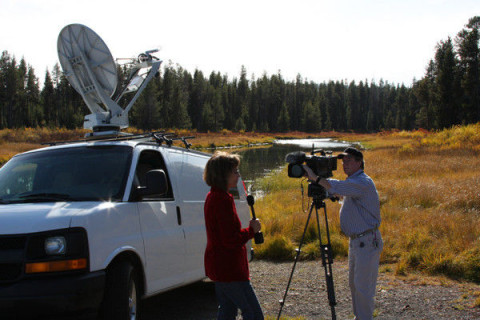 DTS is a full service video production provider that has a unique KU band satellite streaming system for video & audio and can supply telephone & Internet connections at any location.
We regularly shoot TV magazine, news, documentaries, corporate, sports, Reality TV, live uplinks and more. We work as locals in the Eugene and Portland, OR markets, while covering the entire Pacific Northwest.
We have a huge amount of gear to compliment our HD camera packages. We supply 2 man crews and more for single and multi-camera productions in HD/SD/NTSC/PAL. Check us out online at http://www.audiocam.com for more information.
Our national credits include: CBS, ABC, NBC, CNBC, Fox, BBC, PBS, HBO, the Weather Ch., The Discovery Ch., TLC, WGBH, Dr. Phil, America's Most Wanted, Sirius XM and many, many more. Corporate clients include: Nike, Symantec, Microsoft, MIT, Taco Bell, Hewlett-Packard, Adidas, Reebok, and more. International credits include: British, German, French, Dutch, Japanese and Australian television.
Specialties
Award Winning Productions
Corporate Training Videos
Documentary Style Videography
Editing Expertise
Freelance Videographer
HD Video Shooting, Editing & Production
HMI Lights
Industrial Corporate Videos
Jib & Dolly
KU Band Satellite Uplink System
Location Editing & Streaming
Nature
News Events
NTSC & PAL
Performance & Fine Arts Videography
Personal History Biographies
Photography Services
Special Event Videography
Sporting Event Videography
Teleprompter
Voice-over Recording
Web Video Production & Streaming
Writing & Producing Expertise