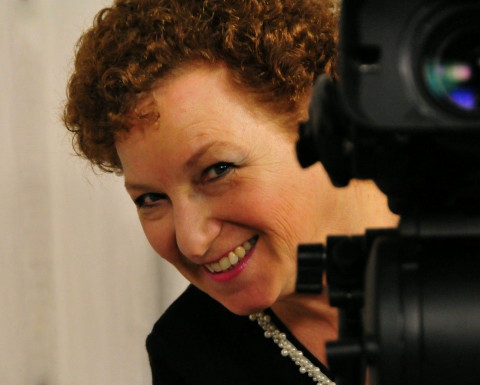 Connect Your Stories Video productions serves Massachusetts, Maine, New Hampshire, Connecticut, and Rhode Island.
Specializing in creating online videos for business and non-profit, personal histories, with an emphasis on content and story. What sets this Videographer apart from others? The producer's arts background in fine art, dance, drama, and music. Also, clients with educational or entertaining content can get a Free TV show produced for local or national exposure!
Connect Your Stories Video also makes documentaries. Her first movie, Angels of Austria: The Church That Reached Out To Holocaust Survivors, a story about forgiveness and healing from war, was based on her own family history. Ms. Faust has presented Angels of Austria to hundreds of audiences all over New England and is also available as a speaker at colleges, schools, libraries, and retirement communities.
Her second documentary, "See What's Whispered: The Legacy of Artist David C. Baker" was broadcast last year on New Hampshire Public Television and a number of other tv stations as well as on youtube and vimeo.
Connect Your Stories documentaries and productions seek to uplift the heart and mind, no matter what the assignment.
Specialties
Advertising
And Arts Events In New England.
Audition Tapes
B2B
Bands
Birthday Memories
Business Meetings
Business Videos
Church Services & Events
Color Correction
Commercials
Company And Product Testimonial Videos
Conferences
Corporate Meetings
Corporate Training Videos
Dance Recitals
Dance Videography
Day In The Life Videos
Demo Reels
Documentaries
Documentary Style Videography
Editing Expertise
Family Histories
Filmmaking
Final Cut Pro Editing Expertise
For Schools
Freelance Videographer
Fundraisers
Funerals
Graduation Videography
Grand Openings
HD Video Shooting, Editing & Production
Highlight Reel
Highlight Videos For Keynote Speakers
Independent Film Production
Instructional Videos
Interviews
Learning Presentations
Libraries
Marketing & Promotional Videos
Meetings
Memorial Montages
Memorial Video
Memories & Stories
Military Homecoming
Multiple Cameras
Music Video Production
Narrator
Non-Profit Fundraising Videos
Non-profit Video Production
Parties
Performance & Fine Arts Videography
Personal History Biographies
Post Production
Presentations
Presentations Of My Documentaries
Preserving Memories. Honoring Life!
Produce Video For Broadcast
Product Demo Videos
Professional Service
Profile Videos
Promo Videos
Retirement Communities
Retirement Communities. Libraries
Reunions
Safety Training Videos
Scanning
School Shows
Scriptwriting
Short And Long Format Productions
Short Films
Small Business Videography
Special Events
Storytelling
Television Shows
Theater
Trade Show Coverage
Tribute Videos
Video Biography
Video Marketing
Video Production
Video Promotionals For Websites
Video To Dvd
Voice-over Recording
We Upload Your Video To Important Video Platforms Such As Youtub
Youtube Videos