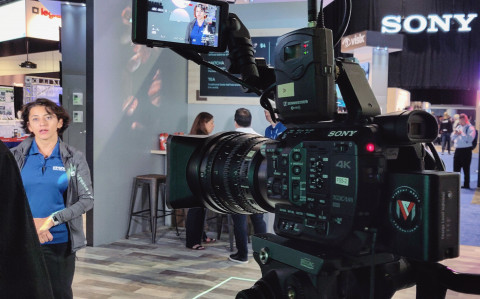 Vibrant Media Productions is a client-focused and results-oriented video production company based in Orlando, FL.
Our team incorporates creative visuals into each and every project to consistently create amazing content for all of our clients. We work in all areas of video production including, corporate commercials, aerial videography, real estate, live events, conventions, interviews, tradeshows, photography, and much more.
Professional, creative, and 100% reliable, we provide one-stop shopping for all of your Orlando video production and photography needs. No project is too big or too small.
Our mission is to use the power of professionally produced media to help you tell your brand's story in a meaningful way that generates impactful results for your business.
Each and every video that we produce has different requirements and specifications.
Whether you have a specific plan in mind, or are open to ideas and looking for creative concepts, we will always give you the biggest bang for your buck.
https://vibrantmediaproductions.com/
Specialties
1. FAA 333 Certified For All Commercial Drone Flight 2. Highest
3D Animation
Advertising
Aerial
Aerial Videography
After Effects
And Much More.
Audio Recording
Automotive Infomercials
Broadcast Quality
Business Videos
Camera Crews
Camera Operator
Cameraman
Campaign Creation And Execution
Chromakey
Church Services & Events
College Recruiting Videos
Color Correction
Color Grading
Commercial Production
Commercials
Commercials For Businesses And Corporations
Company And Product Testimonial Videos
Compositing
Concept Video Artist
Convention Coverage
Corporate Event Coverage
Corporate Meetings
Corporate Training Videos
Day In The Life Videos
Demo Reels
Destination Affairs (On-Location)
Digital Cinematography
Directing Expertise
Documentary Style Videography
Dolly
Editing Expertise
Extreme Sports Videography
Filmmaking
Final Cut Pro Editing Expertise
Freelance Screenwriter
Freelance Videographer
Graduation Videography
Grand Openings
Graphic Design Services
Green Screen Studio Production
HD Video Shooting, Editing & Production
Highlight Videos For Keynote Speakers
Home/Business Video Inventory for Insurance
Independent Film Production
Industrial Corporate Videos
Instructional Videos
Instructional Videos
Interviews
Legal Videography (Demonstrations, Depositions)
Lighting
Live Concert Videography
Make Dreams Videos Of Home
Marketing & Promotional Videos
Medical
Medical Training Films
Meetings
Memorial Video
Memories & Stories
Mobile Video
Montage
Motion Graphics Services
Motion Pictures
Multimedia Projector And Screen Rental
Multiple Cameras
Music Video Production
Nature
News Events
Non-profit Video Production
Parties
Performance & Fine Arts Videography
Photography Services
Post Production
Product Demo Videos
Professional And Reliable Videography. Glad To Be Of Service.
Professional Service
Promo Videos
Real Estate
Real Estate Home Video & Virtual Tours
Safety Training Videos
Scriptwriting
Seminar Videography
Settlement Documentaries
Short Films
Small Business Videography
Special Event Videography
Special Events
Sporting Event Videography
Steadicam Equipment
Trade Show Coverage
Travel Videos
Video Biographies
Video Biography
Video Marketing
Video Production
Video To Dvd
Voice-over Recording
We Upload Your Video To Important Video Platforms Such As Youtub
Web Video Production & Streaming
Web, Cable & TV Commercials
Website Design Services
Wedding Cinematography
Writing & Producing Expertise