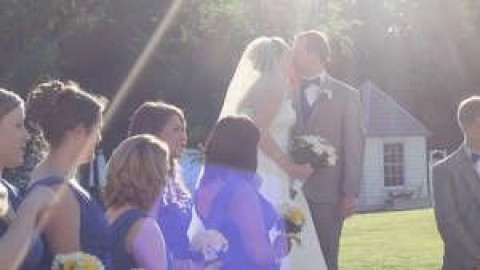 studio | mac is based in Staunton, Virginia and operated by Andrew MacDanel. studio | mac's mission statement is to strive to create video products of excellent quality and value.
Andrew, a classically trained vocalist and music educator, started filming choral concerts and ballet performances professionally in 2005 and shot his first wedding in 2009. Andrew has shot many weddings-- outdoors at Natural Bridge and Serenity Gardens, a Urayguan-Cambodian hybrid ceremony, Russian orthadox, and plenty of good, old-fashioned country church weddings.
Andrew and his family also have a heart for giving. 10% of all profits from Studio Mac Creative Media go to kingsransomfoundation.org, a non-profit organization that gives 100% of all donations to the poor, displaced, orphaned, and homeless throughout the world.
It doesn't matter who you are or where you come from; I strive to create a video that captures the essence of the day. It is my honor to help you capture your most precious moments.
Specialties
3D Animation
Advertising
After Effects
Anniversaries
Audio Post-Production
Audio Recording
Audition Tapes
Bat & Bar Mitzvah Videos
Beauty & Fashion Videography
Broadcast Quality
Business Videos
Cameraman
Church Services & Events
Color Grading
Commercial Production
Company And Product Testimonial Videos
Convention Coverage
Corporate Event Coverage
Corporate Meetings
Corporate Training Videos
Dance Recitals
Demo Reels
Digital Cinematography
Documentary Style Videography
DVD/Blu-Ray Production & Duplication
Editing Expertise
Engagement Sessions
Filmmaking
Final Cut Pro Editing Expertise
Flexibility
Freelance Videographer
Graduation Videography
Graphic Design Services
Green Screen Studio Production
HD Video Shooting, Editing & Production
Highlight Videos For Keynote Speakers
Honor
Instructional Videos
Instructional Videos
Interviews
Kindness
Legal Videography (Demonstrations, Depositions)
Live Concert Videography
Logos
Marketing & Promotional Videos
Mastering
Meetings
Memorial Video
Memories & Stories
Multiple Cameras
Music Video Production
Nature
Non-profit Video Production
Parties
Performance & Fine Arts Videography
Photo Video Montages
Post Production
Promo Videos
Real Estate Home Video & Virtual Tours
Respect
Safety Training Videos
Seminar Videography
Short Films
Small Business Videography
Special Event Videography
Sporting Event Videography
Trade Show Coverage
Travel Videos
Video Biographies
Video Production
Video To Dvd
Voice-over Recording
We Upload Your Video To Important Video Platforms Such As Youtub
Web Video Production & Streaming
Web, Cable & TV Commercials
Website Design Services
Wedding Videography
Wedding Videos