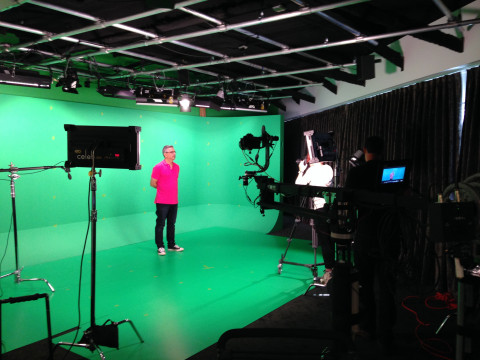 Our NJ video production company is constantly evolving to suit the needs of our clients. Be it a full video production or simply a rental of the studios, IMP Digital Studios has the expertise to execute all of your video production needs.
IMP Digital Studios has a scalable production studio space located in Paramus NJ that can accommodate varying project sizes. With a wide range of equipment and flexible production studio space, you can be certain that our NJ video production company can bring your vision to life.
Our flexible and spacious green screen studio has the equipment and assets to accommodate your video production needs. Our full lighting grid ensures an even green, which is necessary for smooth set-up and shoot experience, and our Tri-caster set up is more than capable of making your live video production a reality. Scalable up to four cameras, our live broadcasts can be produced in our green screen studio or any one of our sets. Green screen studio rental is available upon request.
IMP Digital Studios has extensive experience in many different fields of video production. Our company has a vast array of options on premises for our clients, including our green screen studio, production studio sets, and recording studio, complete with our Grammy Award-winning in-house audio engineer! From music videos and live events, to corporate video production and pharma videos, all the way to internal communication videos and live streaming for your business, IMP Digital Studios is sure to produce a quality video production every time!
Specialties
Audio Post-Production
Business Videos
Cameraman
Color Grading
Corporate Event Coverage
Corporate Training Videos
Digital Cinematography
Directing Expertise
Documentary Style Videography
Editing Expertise
Extreme Sports Videography
Graphic Design Services
HD Video Shooting, Editing & Production
Industrial Corporate Videos
Instructional Videos
Interviews
Legal Videography (Demonstrations, Depositions)
Marketing & Promotional Videos
Music Video Production
News Events
Performance & Fine Arts Videography
Personal History Biographies
Post Production
Product Demo Videos
Promo Videos
Small Business Videography
Special Event Videography
Steadicam Equipment
Travel Videos
Video Production
Voice-over Recording
Web Video Production & Streaming
Web, Cable & TV Commercials
Writing & Producing Expertise