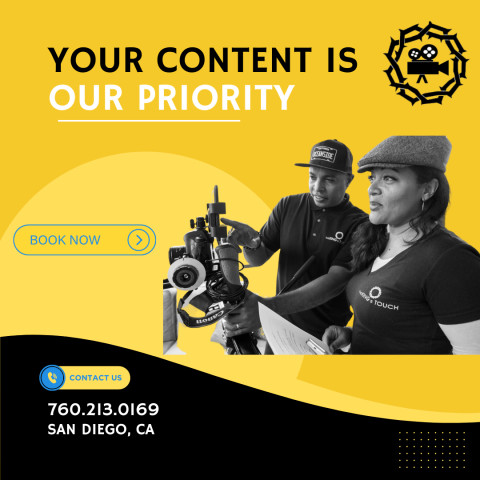 At The King's Touch Creative, we specialize in redefining corporate storytelling through authentic and impactful video content. With a strong foundation in the corporate IT and banking sectors, our dynamic duo, Shawn and Roberta King, bring over 20 years of experience to the table.
We offer high-end video and photography services tailored to Fortune 500 businesses. Our portfolio showcases a diverse range of work, including feature films, TV commercials, music videos, documentaries, and more. We leverage our artistic prowess to capture not just moments, but genuine connections.
What sets us apart is our unwavering commitment to building trust. We understand that trust is the cornerstone of successful partnerships. Our approach transcends scripted sales tactics; we engage in meaningful conversations, addressing your unique needs and concerns.
Our video sales approach transforms the cold call experience. We don't just pitch products; we build relationships. Through listening, understanding, and offering tailored solutions, we establish credibility and foster long-lasting connections.
With a legacy rooted in overcoming adversity and embracing our heritage, we bring authenticity to the forefront of everything we do. Our mission is to empower your brand through narratives that resonate and drive impact. Discover the difference trust can make with The King's Touch Creative.
Specialties
Business Videos
Cameraman
Church Services & Events
Color Grading
Corporate Event Coverage
Corporate Training Videos
Digital Cinematography
Directing Expertise
Documentary Style Videography
Editing Expertise
Freelance Videographer
Graphic Design Services
HD Video Shooting, Editing & Production
Instructional Videos
Interviews
Logos
Marketing & Promotional Videos
Performance & Fine Arts Videography
Photography Services
Post Production
Product Demo Videos
Promo Videos
Scriptwriting
Small Business Videography
Special Event Videography
Specialties: Our Expertise Extends Beyond Traditional Videograph
Steadicam Equipment
Trade Show Coverage
Video Production
We Upload Your Video To Important Video Platforms Such As Youtub
Web Video Production & Streaming