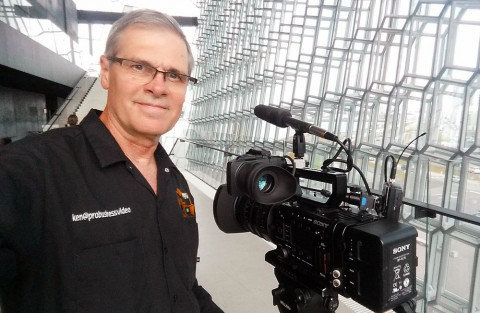 ProBusiness Video and videographer Ken Schreiner shoot 4K/UHD, HD, have 4K/HD drone, pro lighting and audio equipment for exciting and memorable web ads, industrials, commercials, demos, animations, events, Blurays, TV, music, documentaries - anything you can think of! We edit and deliver in 4K, UHD, HD, all TV and web formats. We compose original music, write and voice scripts! Discounts available for small businesses, non-profits, and environmentally-friendly companies! 40+ years professional experience, numerous awards, and global clients. References provided upon request.
Specialties
4K
Advertising
After Effects
Audio Post-Production
Audio Recording
Audition Tapes
Blu Ray
Broadcast Quality
Broadcast Quality Video Equipment And Post Production Editing.
Business Videos
Campaign Creation And Execution
Chromakey
Company And Product Testimonial Videos
Compositing
Concept Video Artist
Consulting
Convention Coverage
Corporate Event Coverage
Corporate Meetings
Corporate Training Videos
Day In The Life Videos
Demo Reels
Destination Affairs (On-Location)
Digital Cinema
Digital Cinematography
Documentary Style Videography
Drone Piloting And Shooting
DVD/Blu-Ray Production & Duplication
Editing Expertise
Executive Productions
Filmmaking
Freelance Videographer
Green Screen Studio Production
HD Video Shooting, Editing & Production
Highlight Videos For Keynote Speakers
Home/Business Video Inventory for Insurance
Independent Film Production
Industrial Corporate Videos
Instructional Videos
Instructional Videos
Interviews
Learning Presentations
Lighting
Marketing & Promotional Videos
Mastering
Medical
Medical Training Films
Mobile Video
Music Production (Composing, Mixing, Mastering)
Music Video Production
Nature
News Events
Non-Profit Fundraising Videos
Non-profit Video Production
Non-profit Videos
On The Street Interviews
Performance & Fine Arts Videography
Personal History Biographies
Post Production
Product Demo Videos
Profile Videos
Promo Videos
Real Estate Home Video & Virtual Tours
Safety Training Videos
Saving You Thousands In License And Synchronization Fees!
Seminar Videography
Settlement Documentaries
Short Films
Small Business Videography
Special Event Videography
Trade Show Coverage
Travel Videos
Trial Presentation
UHD
Video Biographies
Video Biography
Video Marketing
Video Production
Voice-over Recording
We Compose And Record Original Music
Web Video Production & Streaming
Web, Cable & TV Commercials
Writing & Producing Expertise
Youtube Videos