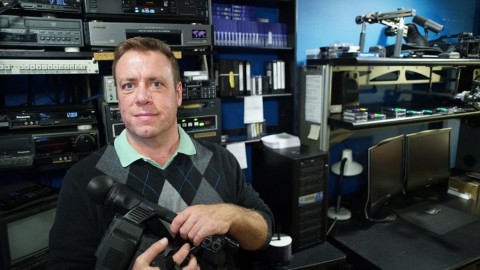 VIDEO CENTER Media, is an owner operated, Iowa City based video production company.
Our clients include individuals, start-ups, non-profits, guilds, government agencies, small and large businesses and universities.
At VIDEO CENTER Media we provide complete video services for both business and personal applications.
For the past 20 years we have been helping individuals, businesses, organizations and the community by providing a wide variety of media productions, events coverage and prosumer audio video transfer services.
We would welcome the opportunity to help you, regardless of your projects scope or size. For more information or to receve a cost estimate call, , THANK YOU
Specialties
8mm Film
Advertising
Anniversaries
Bands
Beauty & Fashion Videography
Broadcast Quality
Broadcast Quality Video Equipment And Post Production Editing.
Business
Business Videos
Camera Crews
Camera Operator
Cameraman
Campaign Creation And Execution
Church Services & Events
College Recruiting Videos
Commercial Production
Commercials
Company And Product Testimonial Videos
Convention Coverage
Corporate Event Coverage
Corporate Meetings
Corporate Training Videos
Corporate Video
Dance Recitals
Day In The Life Videos
Demo Reels
Destination Affairs (On-Location)
Digital Cinematography
Digital Video Transfer (VHS, Hi8, etc)
Documentary Style Videography
DSLR
Editing Expertise
Event Video Services
Event Videography
Extreme Sports Videography
Family Histories
Filmmaking
Final Cut Pro Editing Expertise
Freelance Editing
Freelance Editor
Freelance Screenwriter
Freelance Video
Freelance Videographer
Graduation Videography
Graphic Design Services
HD Video Shooting, Editing & Production
Highlight Videos For Keynote Speakers
Home/Business Video Inventory for Insurance
Independent Film Production
Industrial Corporate Videos
Instructional Videos
Instructional Videos
Interviews
Learning Presentations
Legal Videography (Demonstrations, Depositions)
Live Concert Videography
Make Dreams Videos Of Home
Marketing & Promotional Videos
Media Transfer Services
Media Transfers
Meetings
Memorial Video
Memories & Stories
Multiple Cameras
Music Video Production
Nature
News Events
Non-profit Video Production
Non-profit Videos
Nonprofit
Parties
Performance & Fine Arts Videography
Personal History Biographies
Photo Video Montages
Post Production
Product Demo Videos
Promo Videos
Real Estate Home Video & Virtual Tours
Safety Training Videos
Scriptwriting
Seminar Videography
Short Films
Small Business Videography
Special Event Videography
Sporting Event Videography
Steadicam Equipment
Trade Show Coverage
Travel Videos
Video Biographies
Video Biography
Video Production
Video Production Services
Video To Dvd
Voice-over Recording
We Upload Your Video To Important Video Platforms Such As Youtub
Web Video Production & Streaming
Web, Cable & TV Commercials
Website Design Services
Wedding Cinematography
Wedding Videography
Wedding Videos
Writing & Producing Expertise