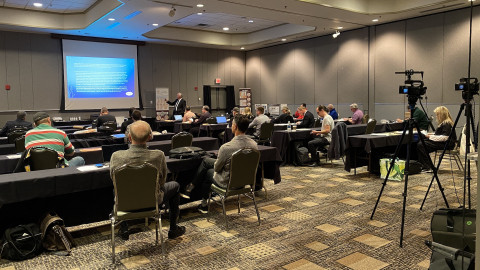 Ambit Vision Video Productions is an award-winning video agency located in Fort Wayne. We deliver businesses with top-notch live-action and animation video services that companies in NE Indiana and Ohio trust. Whether you need a single video or multiple projects, Ambit Vision will guide the process to keep you informed and deliver your custom videos on time. If you're ready, Ambit Vision will help you move forward. Our goal is to help customers remember your unique business, and feel great about buying your products and using your services. We have helped multiple Fort Wayne charities acquire grant dollars for video production services and equipment. Free quotes based on project needs. Call us or visit our website directly at ambitvision.com to learn more and to use our Request a Quote Form.
Testimonial: "I found Ambit Vision in a search for video production in the Fort Wayne area. Peggy returned my message the same day and quickly went to work on my project. Only a couple of examples and a rough outline of what I wanted, set Peggy and her team in motion. She produced an amazing video for our company that perfectly captured what I wanted. Peggy just "gets it" and made the whole process seamless. I would definitely recommend." Todd H - Brindle Products
"It was a pleasure working with Ambit Vision on a recent construction industry training video we needed to have completed in a very short amount of time. The price to point value level we received was first-rate, and they produced excellent results. I highly recommend Ambit Vision, and we will continue to work with them on future videos." ESCSI
Tweeter: @VideoFortWayne. Facebook: https://www.facebook.com/AmbitVisionVideo Instagram at https://www.instagram.com/ambitvision/
Specialties
After Effects
Animation Videos
Broadcast Quality Video Equipment And Post Production Editing.
Business Videos
Camera Crews
Cameraman
Company And Product Testimonial Videos
Corporate Meetings
Corporate Training Videos
Editing Expertise
Education Videos
Freelance Videographer
Graphic Design Services
HD Video Shooting, Editing & Production
Industrial Corporate Videos
Instructional Videos
Interviews
Learning Presentations
Marketing & Promotional Videos
Meetings
Motion Graphics Services
Multiple Cameras
Non-profit Video Production
Non-profit Videos
Photo Video Montages
Post Production
Product Demo Videos
Promo Videos
Safety Training Videos
Scriptwriting
Seminar Videography
Small Business Videography
Special Event Videography
Video Production
Voice-over Recording
We Upload Your Video To Important Video Platforms Such As Youtub
Web Video Production & Streaming
Whiteboard Videos