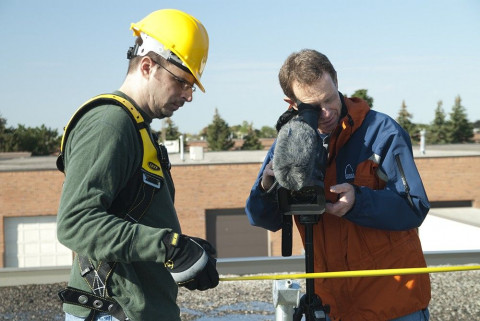 45 Degrees Latitude is a video production company serving government, business and expeditions. We provide professional, affordable service to a multitude of clients who wish to add a video component to their web site, produce a training video, sales/promo video or company video to compliment their printed marketing materials. Web video to 4K resolution production, we do it all.
Ken Hook is the Chief Videographer and Video Editor. Ken is an Apple Final Cut Pro(FCP) Certified Expert and is listed on the Apple Registry - 1 of only 4 Certified Video Experts in FCP in Canada.
Our specialty is training/educational videos,audio tours and documentaries. We were the recipient of Best Training & Educational Video 2008-2009 by Videomaker Magazine, Chico, California. Production HUB in Orlando presented us with 'Best Orientation Video' in 2011. Closed Captioning, professional narration and language translations also available.
We service most of Ontario, Canada from Ottawa to Toronto and north. Web service is available internationally.
Specialties
Advertising
Audio Recording
Audio Tours
Audition Tapes
Blu Ray
Broadcast Quality
Business
Business Videos
Camera Operator
Cameraman
Church Services & Events
Commercial Production
Company And Product Testimonial Videos
Compositing
Convention Coverage
Corporate Event Coverage
Corporate Meetings
Corporate Training Videos
Dance Recitals
Demo Reels
Destination Affairs (On-Location)
Documentaries
Documentary
Documentary Style Videography
DVD/Blu-Ray Production & Duplication
Editing Expertise
Extreme Sports Videography
Final Cut Pro Editing Expertise
Freelance Videographer
Graphic Design Services
Green Screen Studio Production
HD Video Shooting, Editing & Production
Highlight Videos For Keynote Speakers
Industrial Corporate Videos
Instructional Videos
Instructional Videos
Interviews
Learning Presentations
Live Concert Videography
Logos
Marketing & Promotional Videos
Medical
Meetings
Mobile Video
Nature
News Events
Non-profit Video Production
Non-profit Videos
Performance & Fine Arts Videography
Personal History Biographies
Photo Restoration
Photography Services
Post Production
Presentations
Product Demo Videos
Promo Videos
Real Estate Home Video & Virtual Tours
Safety Training Videos
Seminar Videography
SEO
Small Business Videography
Special Event Videography
Sporting Event Videography
Trade Show Coverage
Travel Videos
Trial Presentation
Video Biography
Video Production
Video Search Engine Optimization
Video To Dvd
Voice-over Recording
We Upload Your Video To Important Video Platforms Such As Youtub
Web Video Production & Streaming
Website Design Services
Writing & Producing Expertise