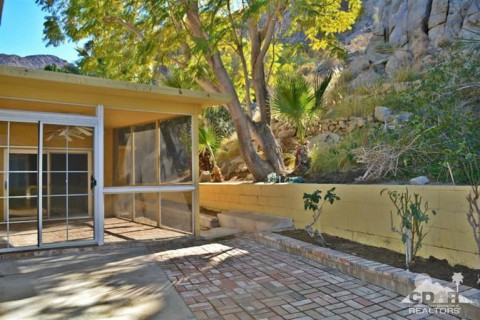 Desert C.A.M. Studios/Winmill Productions, a film/video production company; video/audio post-production house; stage w/green screen, black & white seamless, 5 Sony EX3 HD broadcast quality cameras; teleprompter; and full film/video equipment rental house, is located in a beautiful home designed and built by entertainer, Desi Arnaz, who also resided here after his divorce from Lucille Ball. The 5-year old production facility, has produced a dozen major PBS Live Concert Pledge Specials (Marc Anthony, The Kingston Trio, Brian Wilson, Diahann Carroll, The Irish Tenors, Pia Zadora, The National Dance Company of Ireland, Donovan, etc., two network television pilots, a successful children's series at Disney Channel, over a 100 music videos for MTV, VH-1, CMT, BET, and MTV Europe, dozens of national, regional, and local TV commercial spots, national infomercials (Tony Robbins, etc,), HBO live concerts, several award-winning documentaries, and numerous international corporate films.
Our state-of-the-art post-production services include three Final Cut Pro Video Edit suites, each featuring Digi-Beta deck transfer, color correction, animation, and a wide array of special effects programs. In addition, we have a PAL edit/transfer bay, DVD duplication/labeling, 3/4 and pro VCR decks for digital transfer, a V.O. booth, and a full blown Pro Tools Audio/Sound mixing suite. Our impressive rental equipment inventory includes HD cameras, full lighting and grip packages, including two rare 12K lights, a thirty-foot crane, and a Glidecam set-up.
Our studio and offices are set in a resort atmosphere, located near Palm Springs, and just minutes from the annual Coachella and Stagecoach Music Festivals in Indio. Clients in from LA or Canada to edit or mix, have the option to stay in DCAM's private guest quarters, enjoy the paradisiacal setting, then return home to tell everyone how wonderful it was working in the desert - the pool, spa, the legendary Indian Wells golf course, BMP Tennis Gardens, great restaurants, casinos, cabarets, and unrivaled, breathtaking sunshine scenery year round.
DCAM produced our first feature film, "Cry Murder," which premiered at the Palm Springs Film Festival, are currently in post on our second feature, "Earth to Jimmy," a modern coming-of-age tale, and are prepping for "The Silence" to star Liam Neeson to be shot in Ireland, and are developing films on TV talk show pioneer, Morton Downey, Jr., psychic Edgar Cayce, and a biopic on The Kingston Trio with Josh Reynolds and icon Bob Shane. Recently, we produced a two-part PBS TV Pledge Special, "Rhythm of the Dance," shot on 48 locations throughout Ireland, as well as an all-star tribute to The Kingston Trio with The Beach Boys, The Eagles, Barry McGuire, The Limeliters, Marcus Mumford, Steve Martin, and Woody Allen.
DCAM Studios is headed up by award-winning filmmaker, award-winning music video Director/Producer, WGA Screenwriter, Illustrator, and recording artist, Chip Miller (singer/songwriter with popular Universal Music alternative folk rock band, Old Sand Mill); International Business Entrepreneur/Producer/TV Host, Kecia Wimmer-Lyons; and Music Video/Indie Film Producer/Editor, Travis Miller. We are supported by a young, technologically solid team, featuring editors, camera operators, line producers, and two directors beside Miller. The DCAM philosophy is simple: a client's satisfaction comes first.
Specialties
ADRMixmajor
Aerial
Audio Post-Production
Blu Ray
Broadcast Quality
Business Videos
Cameraman
Color Grading
Commercial Production
Company And Product Testimonial Videos
Compositing
Concept Video Artist
Convention Coverage
Corporate Event Coverage
Corporate Training Videos
Day In The Life Videos
Digital Cinematography
Digital Video Transfer (VHS, Hi8, etc)
Directing Expertise
Documentary Style Videography
DVD/Blu-Ray Production & Duplication
Editing Expertise
Filmmaking
Final Cut Pro Editing Expertise
Freelance Videographer
Graphic Design Services
HD Video Shooting, Editing & Production
Industrial Corporate Videos
Instructional Videos
Interviews
Large Music Library. Film & Video Sound & Audio
Live Concert Videography
Mastering
Motion Pictures
Multiple Cameras
Music Supervision For Film & TV Licensing
Music Video Production
Performance & Fine Arts Videography
Personal Talent Management
Photography Services
Post Production
Promo Videos
Safety Training Videos
Scriptwriting
Short Films
Special Event Videography
Sporting Event Videography
Steadicam Equipment
Trade Show Coverage
Video Production
Video To Dvd
Voice-over Recording
Web Video Production & Streaming
Web, Cable & TV Commercials
Writing & Producing Expertise